A Honeymoon Safari in Africa
Ok, so I'm going to be honest with you here guys, I had a pretty fixed idea about what makes a Honeymoon and it didn't involve a Safari! It mainly involved clear blue waters, a luxurious hut on stilts over the ocean, a sun lounger and a shedload of cocktails. Unfortunately, my husband had other ideas!
They say opposites attract, and when it comes to our ideal vacation, we're pretty damn opposite. Whilst my mantra is 'the hotter the better', Jonathan can't stand the heat and will last about 5 minutes on a sun lounger before he's bored!
When he first suggested a Safari, my Honeymoon dreams were dashed, but he knows I'm a sucker for cute animals, so he quickly wore me down with baby giraffe pics, and promises that it would be just like The Lion King! You know what? He wasn't wrong. It really was like being immersed in a magical Disney movie, an experience I will always treasure, and one that still brings tingles to my spine when I think about it.
After transferring from Johannesburg in South Africa to Botswana's capital, Maun, we boarded a tiny little 4 seater plane to our first camp, Zavuti Lodge, and from there, the magic pretty much started straight away.
After a quick 20 minute flight, we touched down on a dirt strip that passed for a runway, where we were met by our guide, Archie. He asked us if we wanted to go straight to the hotel, or take a quick safari. We were exhausted after 20 hours of travel, not to mention our wedding, a mere two days before, but when in Africa... right?!
Man, did we make the right decision! Not five minutes after leaving the airstrip we met a group of teenage male elephants that were, in Archie's words 'showing off their manhood' - this involved a lot of trumpeting, ear flapping and tree shaking!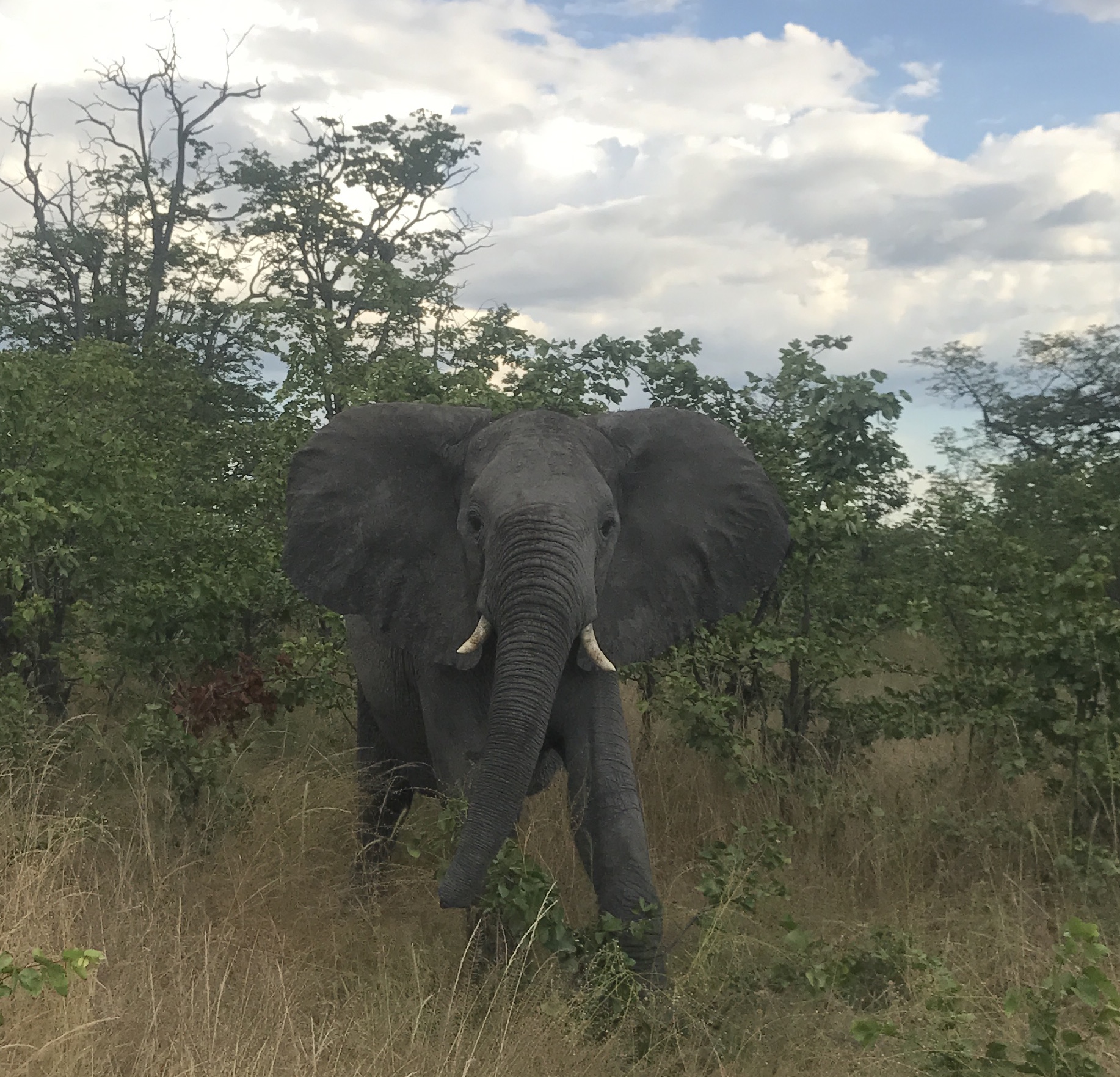 Archie explained that the Matriarch will throw those pesky teenage boys out of the family at age 12 to go off and grow up a bit! Sounds sensible. The famous watering holes, that make for the picturesque sightings of animals meeting to drink at sundown, are created by the elephants who lick the ground during the dry season, for salt. Turns out their tongues are pretty powerful, acting like shovels to dig huge holes in the earth. Then the rain comes and hey presto, an elephant made lake!
On our way back to the lodge we had spotted countless antelope, beautiful birds, and learnt about the natural healing properties of various local plant-life. Suffice to say, it was the best trip from an airport, ever!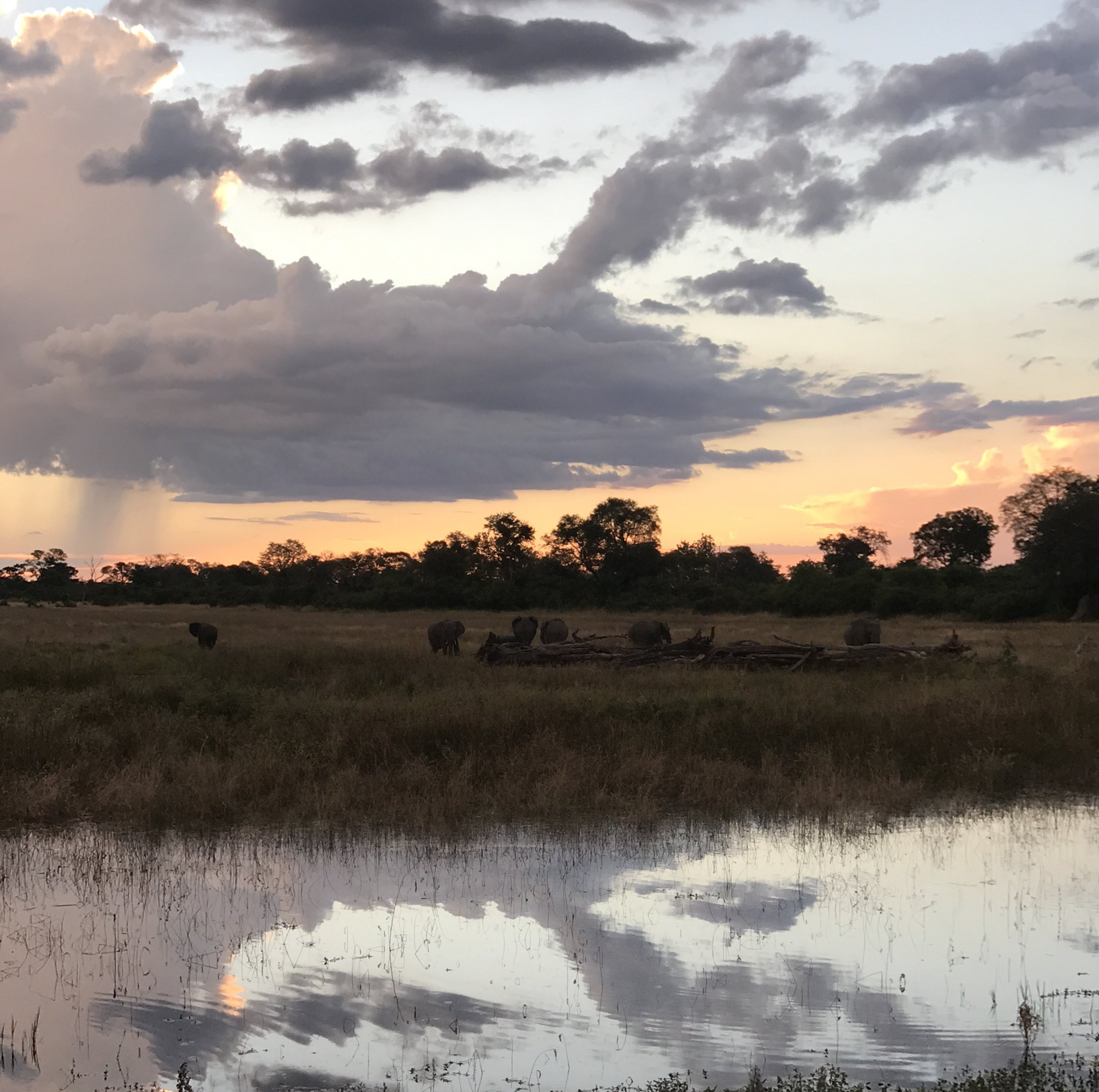 When we arrived at Zavuti, the welcoming committee was out in full force, we enjoyed a sundowner on the deck surrounded by a herd of elephants!
Monday night is Boma night in the camp. The local word boma means 'gathering' but originates from the the acronym for British Officers Mess Area, which the local tribes adopted as their own many years ago. For us, it meant a group dinner around the fire pit, lots of incredible local cuisine, traditional song & dance and more drink than you know what to do with, those Batswana's sure know how to party!
The next morning we were awoken at 5.30, which became a recurring theme for the rest of the vacation, there is no sleeping in on Safari! We dragged ourselves out to the deck for breakfast with the other guests, all twelve of them, (the camps are all small and intimate) before setting out on Safari.
It's fair to say it was worth the early start! On the morning's game drive we saw Hippos, Impalas (known as the McDonalds of the Bush due to the distinctive black M shape on their butts!) waterbuck, oh and the King of the Jungle himself, a beautiful male Lion.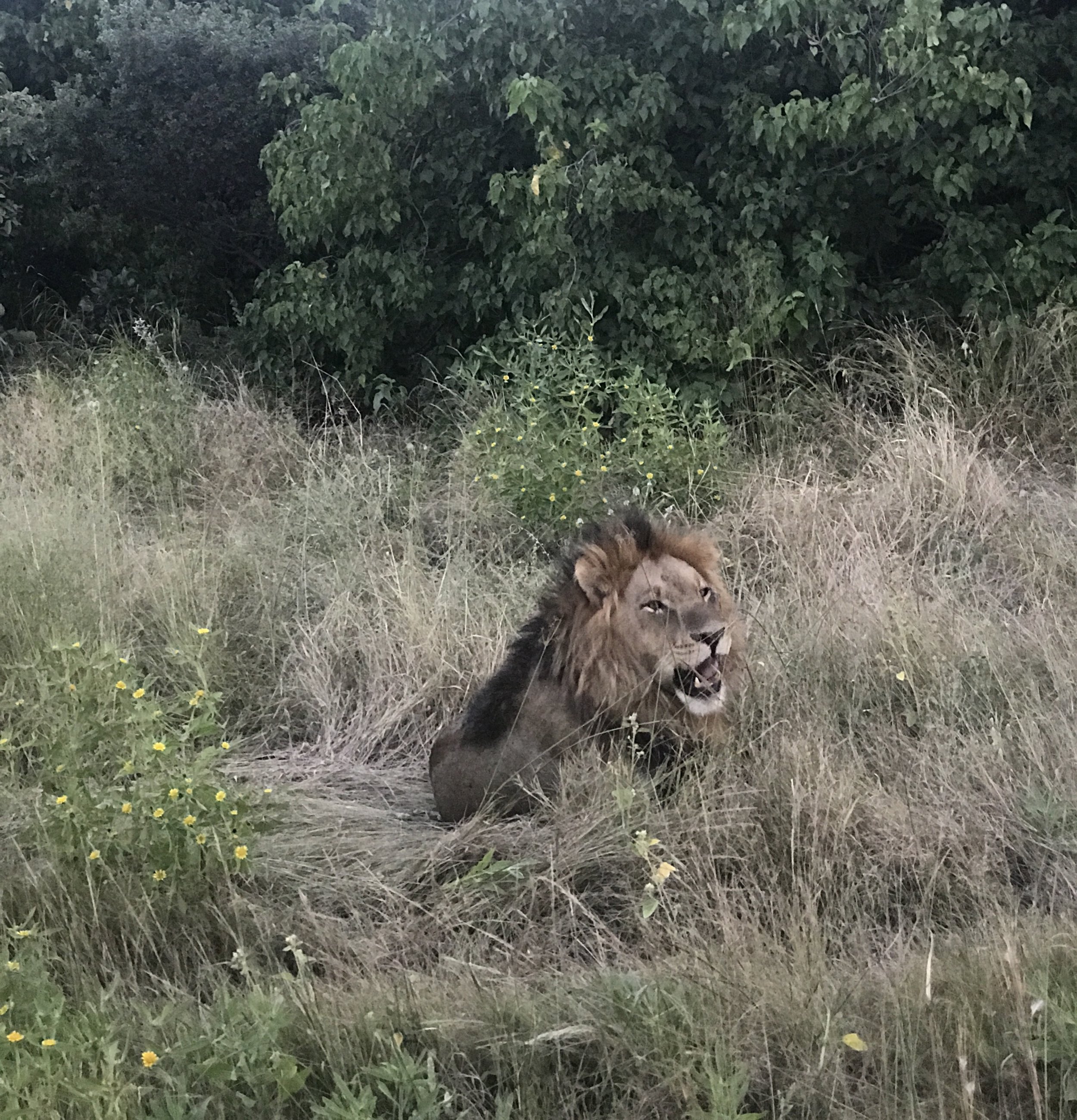 We returned to the camp around 11 for a little nap before being served a delicious lunch. Then, it was siesta time, before being served High Tea at 4pm. Did someone say scones and clotted cream?! Don't mind if I do! One thing is for certain, you are never going to go hungry on Safari! After that, it was back out for the afternoon game drive; a whole family of Lions, including some gorgeous baby cubs, and more hippos. We arrived back at camp to find our bed decorated with rose petals, a bottle of champagne on ice and a private candlelit dinner under the stars. Honeymoons rock!
The next day we made our way South to our second camp, Shindi Lodge, Shindi means tree squirrel and we saw plenty of these cute little critters! We were greeted by song and dance and a glass of ice cold Sauvignon Blanc, before being shown to the Honeymoon suite.
That afternoon we decided to forego the activity as Jonathan wasn't feeling well, so I hotfooted it to the pool for some sunbathing. On Safari you're never too far away from the action though, I had a pool companion in the form of a gigantic male elephant, who was standing under the shade of the trees. Just spellbinding. After an hour or so, I watched as he crossed the expanse of land in front of me, into the horizon, to rejoin his herd.
We enjoyed a chilled dinner with the other guests; a diverse mix from Switzerland, Australia, Italy and the US, and of course, more delicious food and drink.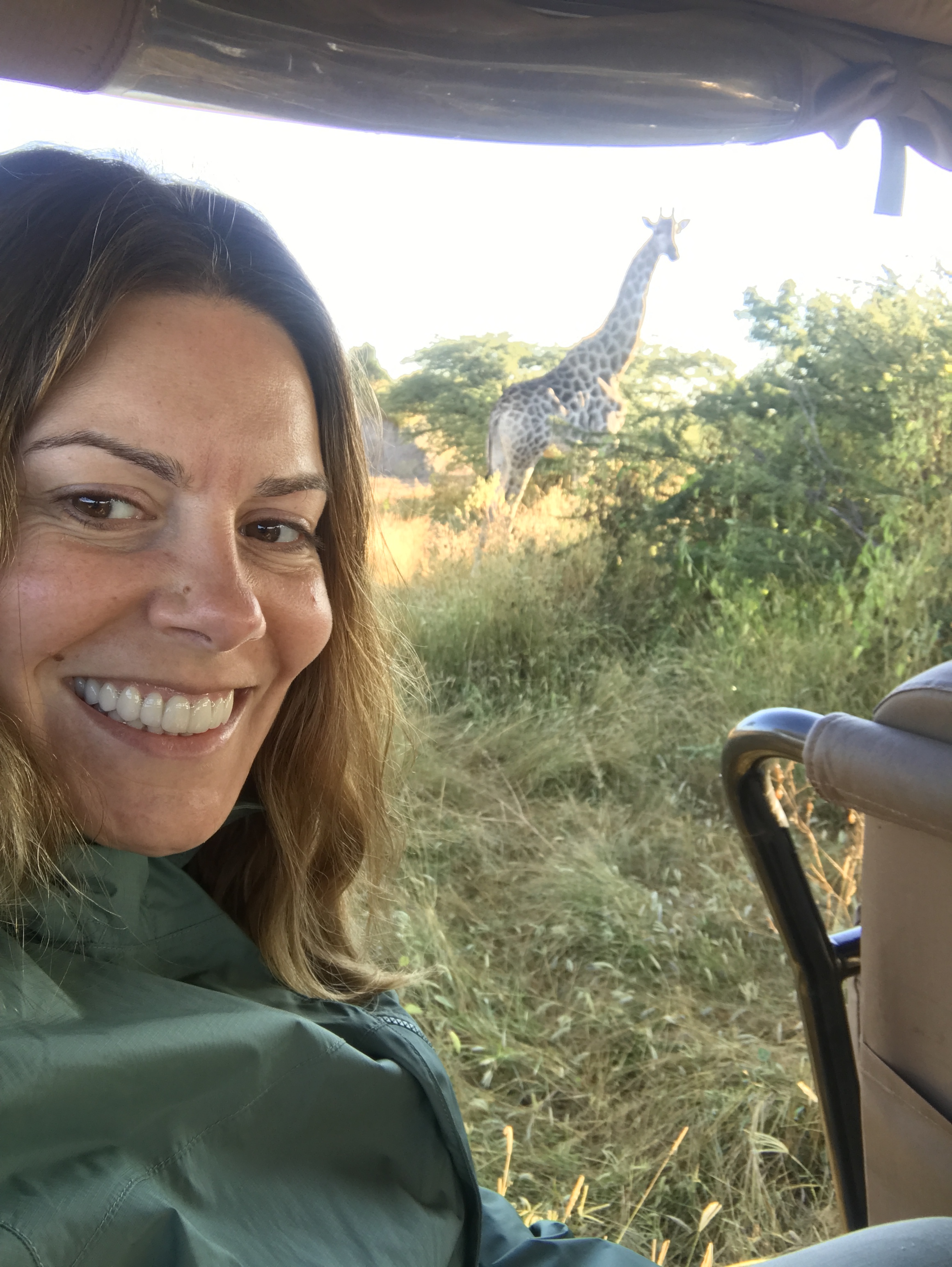 I'd been joking about getting a giraffe selfie for months so I was pretty happy when I finally pulled it off! Bar the lion cubs, because c'mon, lion babies (!!?), these were my favorite animals. Their grace and gangliness combine to create the most beautiful creatures, who are more cartoon like than even Walt Disney himself, could conceive.
If you go on Safari, definitely take a notepad to jot down all the wildlife you see, there will be so much, and so suddenly, that you can't help but forget. I'm not going to bore you with every single sighting but it was absolutely magical.
So the moral of the story is, don't be afraid to explore Honeymoon options that you hadn't previously considered! I am so glad we took this trip, and I did manage to wangle a few beach days in Oman, on our way home!
There is so much more I could tell you about this vacation, but I really need to clean the house and I don't want you getting bored (which supposes that you aren't already!) but I'll leave you with this:
Top 5 reasons why you should consider a Safari Honeymoon
You are literally cut off from the outside world! There is no cell reception and no wifi, so for a few days or more, you're not getting notifications about Trump's latest policy, feeling obliged to check on work emails, or being seduced into scrolling through your social media feed to see if anyone has posted any wedding snaps! It's just the two of you, enjoying each other, and the incredible natural beauty of the world we live in.

You are a novelty! If you go to the Maldives or Hawaii or any traditional honeymoon destination, newlyweds are ten a penny! On safari, we were the only honeymooning couple at all of our 3 camps. This equates to a lot of fuss! Countless bottles of champagne, bubble baths, cakes, flowers, fabulous tasting menus under the stars.. you name it, we got it.

It's luxurious! Ok, I'll admit it, I heard 'tented camp' and shuddered. I'm not too great at roughing it and I had visions of tiptoeing to an outdoor restroom whilst being stalked by lions.. erm, no. There is some canvas I suppose, but nothing much resembling a tent! Think en suites, four poster beds and unlimited, delicious, food and drink. Basically, you'll be spoilt rotten!

It's magical! Honestly, from the moment touched down on that first dirt strip I felt like I was in another world, one that I had only glimpsed on movie screens. The people are incredible, they are so passionate about the animals and the environment, the camps are filled with laughter, music and dancing, that makes you feel as though you are actually immersed in The Lion King. It truly just makes you feel good to be alive!

Lion babies! Because, C'mon...LION BABIES!! Why, oh why, did I not get decent pics of those cubs?!